LinkedIn is one of a kind social media platform that is accompanied by some professional outlook and assisted by a few weird algorithms. With more than 260 million active users on the platform, most of which are professional, LinkedIn has created a more concentrated audience that is impossible to find on other social media platforms. This is the very reason behind why LinkedIn is now an amazing marketing platform especially for B2B or business-to-business connections. 
The LinkedIn marketing strategies that are supposed to work on LinkedIn are behaviorally resonant with SEO (Social Media Optimization). The primary grounds of this being its outreach building over a significant period. This is very different from the engagement stats that are provided by Instagram and other widespread platforms. 
L

inkedIn Marketing Tools
What's hot on LinkedIn?
The LinkedIn business has become a buzz in the internet community for all sorts of businesses that want to have a more professional approach in online advertising. There are budding entrepreneurs, businessmen, Job seekers, Researchers and students who comprise LinkedIn audience. But LinkedIn is never the first step. LinkedIn is a dense yet less crowded comparatively. A smart entrepreneur or businessman will always use social media and social media marketing tools for much better exposure on the internet.
What do we mean by Social Media as a "Collective Weapon"?
There is an amazing bypass for LinkedIn Business and LinkedIn Marketing Strategies. This is most simply described by the fact that other social media can drive traffic for your LinkedIn profile. Using LinkedIn marketing with collective social media, better content, trending posts, engaging work, relevant certifications, and work proofs are the basics that one has to look after by doing their homework. 
As Social Media and other organic methods of promoting your LinkedIn profile is an overtime process, anybody with an active profile on LinkedIn should and must come up with a strategy with the right kind of sources to back their idea up. We are going to discuss the best LinkedIn marketing tools in this blog post. All of these tools will act upon a critical parameter that will help you in using LinkedIn for marketing. We will accompany these tools with the best available resources and their ease of access too. 
Let us analyze the best internet tools that will make your LinkedIn marketing a much efficient journey. 
LinkedIn sales navigator is an outreach and statistics application tool that works with any kind of profile to nurture his/her online experience. The tool is rated very high in terms of usability as well as scalability. The primary action of the sales navigator is to narrow down the target audience to a more focused list of true customers which minimizes the number of misses that might be the case without a tool that works as such. 
It uses the search and filter operations to assure applicable inputs and insights to remain decisive about the marketing strategies that these stats encourage. With this usable data, the user can build much-personalized content with all the right suggestions which make the entire profile twice as relevant to the readers. 
The pillars of this tool are extended network, live updates, engaging content. A harmonious hub of these 3 makes sales navigator highly productive.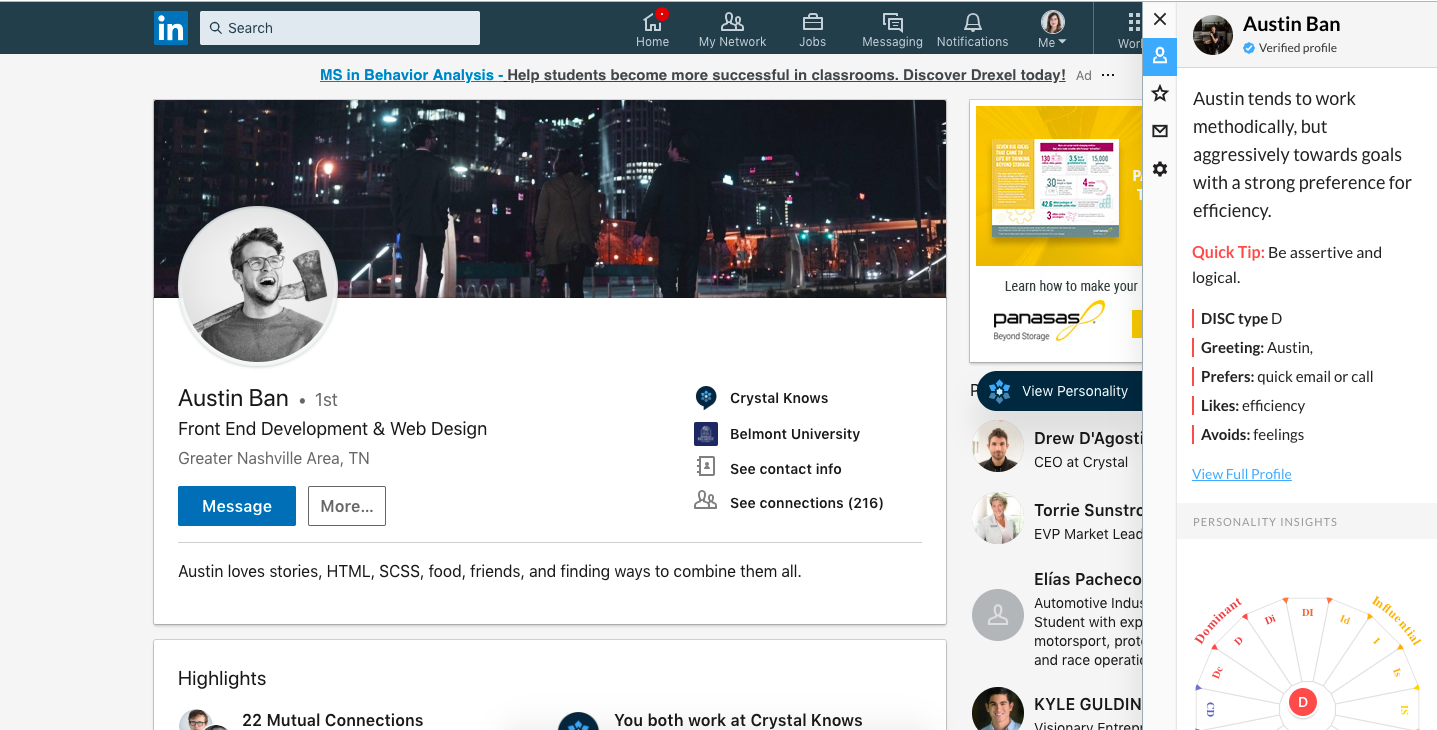 Crystal is a personality prediction tool used to obtain highly accurate insights into any LinkedIn profile. Crystal can be used as a google chrome extension that sits a click away for helping you. This tool was able to attain fame not just because of its accuracy but the speed too. It uses Dominance-Influence-Conscientiousness-Steadiness (DISC) as a personality classifier. This gets the job done within seconds. The basic idea is to have relational data of profiles that the user can compare to find the best list of target audiences. There is a paid version of the tool that works like a virtual agent for the user majorly dealing with understanding to approach potential people. 
One thing to pay attention to is that Crystal is still budding, so its capabilities are still being improvised and there is only an estimate of how better it can get with updates. 
There have been certain blog posts about the application being scary in terms of its accuracy. Although there hasn't been a single case of its misuse and the concerns raised were about the probable near future. 
We have mentioned this in the very beginning that LinkedIn marketing can be methodologically described as SEO. There is an amazing marketing tool that functions to minimize the requirement of multiple tools. These plugins are collections of a variety of tools that cover every bit and corner of LinkedIn usability. 
Let us have a look at a few of these plugins. 
This plugin enables you to expand the bandwidth of audience attraction beyond social media. The basic functionality of WP LinkedIn is to embed the profile at different site locations. The most likely use would be embedding it near titles, personal information or at the bottom of your posts. This will act as a bridge between your google traffic and online business to LinkedIn. 

A great example of the LinkedIn automation marketing tool is the auto publisher that saves 
time and posting gaps. It allows you to publish posts directly on your LinkedIn from the WP website. Being able to share different content help in video marketing, book marketing and get better marketing ideas. One of the features also allows you to filter the content that is to be posted on LinkedIn from the WordPress website. 
A few other plugins, which are worth to look at are:
LinkedIn profile badge
WordPress social ring
Alumni tool
Company insider
LinkedIn autofill
Also Read:
Top 10+ LinkedIn Automation Tools 2020
How long can Instagram videos be ? Video Length Explained
Its time to have a look at a proper predefined B2B tool for LinkedIn, which works as one of the initial steps for you to mark the territory on LinkedIn business. It's none other than the company page. It is the most natural way of promoting your brand and convey its purpose to the audience under your bandwidth. The subtle suggestions to make this tool work out are having apt content, relevance, and originality. As a company or individual, having certifications and recommendations in your domain of work makes you more approachable. 
The next step towards making your company page more sophisticated and have better outreach is by extending it to LinkedIn Showcase Pages. Two primary features define showcase pages. The first one being the capability of making desired changes in the page for a specific audience and the second one is its ability to store and send certain customized messages to respond to your potential network quickly. 
A prospecting marketing tool that helps you jot down and create a database for the use of the company, SalesLoft works on the basic functionality of simple search. Its outcome is very similar to a lot of other tools, but the better side of SalesLoft is its organizing. The tool is an edge above its rival tools in terms of accuracy and the way it presents this work is commendable. 
As a tool, SalesLoft Prospector is exactly what its name suggests. The different tools in it work in different ways. It helps in making the marketing plan and provides the right marketing tools for it. For different businesses need different marketing ideas, the Prospector works very well in all these aspects.
DiscoverOrg

Crystal

Owler

InsideView

Datanyze

RingLead

Sigstr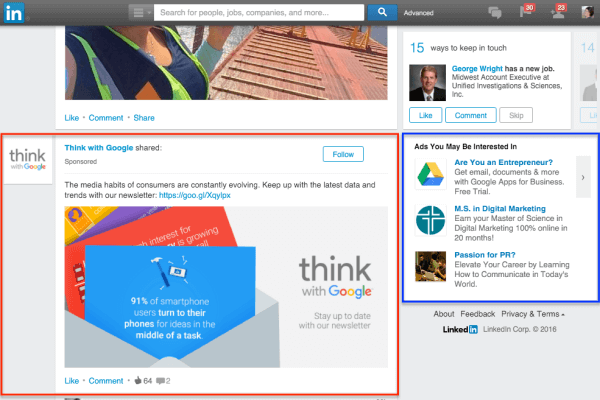 LinkedIn Ads works like any other internet ad. But these are appropriately made for LinkedIn. These ads are to nurture your potential audience through advertising the product or services. It works in breaking the last layer between the audience and the business to make the sales work. This takes your marketing materials and works as two different types. 
Text Ads:
Text ads can be best described with their similarities of working with google pay-per-click ads. You can choose a bid for your text ads and then let it work. 
Promotional Ads:
These ads work on your homepage. The most prominently display your business and help in getting a one glimpse idea of what your profile represents. This is subject to how you design it. To relate, promotional ads on LinkedIn are similar to native advertising.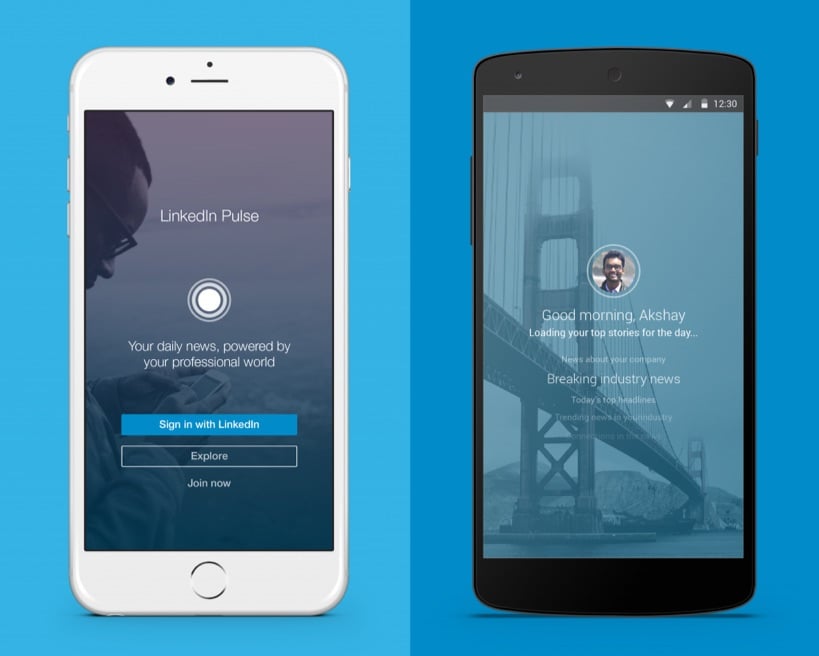 Here, we introduce one of the most useful tools on the list. Pulse app is not just pushing you up content on the list but it is doing it strategically. LinkedIn, as any other social platform works with taste recognition. It will show you posts, articles or videos based on the interest you have shown towards those topics. But we also have to acknowledge the fact that LinkedIn has way lesser creators when compared to Instagram. This means that the posts are less and most of them have high-quality content. 
Here, Pulse is trying to navigate content to individual profiles that come from influencers and other famous creators (not necessarily individuals). With more than 92% of businesses using LinkedIn profiles for B2B, it is providing proof of work for Pulse. One doesn't have to worry about missing on the content in their feeds as Pulse will try to keep it right on the top for you. 
LinkedIn SlideShare is one of the most famous apps for both android and ios users. This is a dedicated platform for users who are looking to seek or share information through different file formats and presentations. With around 40 million active LinkedIn users sharing knowledge, the app is filled with users constantly looking for relevant and usable presentations. But there is more than just seeking information on SlideShare. Here is how you can use SlideShare to establish our internet identity on LinkedIn.
Use Slideshare to make better connections. Endorse yourself by making presentations directly on SlideShare. When the audience engages with the content you made, it will help in analyzing both the target audience and drive the traffic from these people to your LinkedIn profile. Please note that your profile is your biggest marketing tool. Using it on different platforms especially for building content will work towards the overall growth of your LinkedIn business. 
The most appreciated feature in the SlideShare app is the allowance to the audience for liking and commenting on the content. This feedback will help you understand what better could be done and at the same time increases interaction with people working or looking for a similar niche. 
LinkedIn elevate app is rated as the best LinkedIn automation tools. The very fact that this is a LinkedIn automation marketing tool makes it a great deal. Having this handle your work eliminates the need for two different tools. 
The Elevate app works on both pc and as a mobile app. The content to be shared can be created by you or from an external source. LinkedIn elevate app works on 3 super useful features. 
Direct sharing of content is much easier. It allows you to share your content without facing the hassle of going back and forth to the source just for the sake of sharing it. 
The next important feature being its ability to schedule content on your profile. You can schedule the content at different times and also maintain the same frequency for better stats. It allows you to keep posting on LinkedIn active at all times even during your absence at the work station. 
The most advanced feature of this marketing tool is scrapping content from existing sources. By this, users should understand that Elevate can find relevant and quality content that can be scheduled to be posted on their LinkedIn profile. This shows that the Elevate app works as a LinkedIn Hootsuite. 
Voogy was ranked among the best LinkedIn automation tools 2018. Voogy is categorized in the LinkedIn automation marketing tools that work in generating actual customers who are looking to seek your work at the earliest. 
It claims to be intelligence automation entitled to channel your work and multiplying the growth. The working mechanism is pretty quick and creates a useful database for promotional activities. Whenever someone visits your profile it captures the data and identifies the interest based on the data collected. It tracks the content they have visited and what pages did they navigate to. 
Now that it has all the required inputs you can track the individual or company profile that visited your profile and authorizes emails to them personally for the sake of marketing. This entire process can be automated. This level of penetration into the profiles enables this tool to increase LinkedIn followers.
You are now looking at a creator tool that gives you an important aspect that supports all the marketing strategies. Yes, Venngage is used to make appropriate graphics so that it can be shared for the content that you have on your profile. This can be both personal or public. 
The infographics you create can help in engaging your audience with your content. 
Sometimes only the plain long content can make your work boring. These informative eye-catching pictures will make your work easier. Infographics convey a lot with just a single snap. With over 1000 templates for designing and customizing, Venngage lets you be very creative with your content. 
LinkedIn recruiter is a heavily used tool that makes LinkedIn for employers a reliable option. As the name suggests, the LinkedIn recruiter app is the hunt for talent with the right skills that shall help the user for their professional recruiting. Dux-Soup is an extension on chrome that works for keeping your profile active and sending automated messages on your behalf. 
Companies and small businesses can show their job openings along with the skills that they are looking for in the employee. The usability depends on both recruiters and job seekers. As LinkedIn is a professional social media that share the ecosystem with every other corporate and product-based company, students and graduates have their profiles built on LinkedIn that works as a digital resume. The recruiter tools also come in premium versions. The recruiter pricing 2019 and recruiter pricing 2018 don't have much difference, so any of the lists will help you in knowing LinkedIn recruiter corporate prices. 
These students describe all their professional and soft-skills that the company might be looking for. There is a separate section for students with matching interests the visibility of these profiles is both ways. The entire recruiter tool is segmented into Job Slots and Job Posts.
C

onclusion
LinkedIn marketing might not have million in numbers, but it is currently the internet hub of professionalism in work and personal interests. LinkedIn has tons of features that will help your profile growth. From the content on your bio to automating your daily marketing activities, there are free LinkedIn automation tools for everything.
Social Media Marketing has broadened its horizons into LinkedIn that works in collaboration with your regular audience and the standardized LinkedIn crowd. We hope that the list and review of these tools will assist you in all your LinkedIn marketing endeavors.